TOP PICKS:12 Gluten Free Sweet Christmas Products In The Normal Aisles
I've picked out 12 of my fave sweet gluten free Christmas products from the "NORMAL AISLES"!!
They're all here because:
They are bits you might not expect to be gluten free
They've been tried & tested either this Christmas or the last few and I want to tell you all how yummy they are!!!
---
WANT THE SAVOURY VERSION?- click here
Or maybe you want my "Complete Guide to a Gluten Free Christmas!" – click here!
---
Ok so lets get cracking with the top sweet picks…
Tesco Only – Kettle Crisps Roast Chicken & Thyme -I was gutted when I couldn't find a gluten free versions of Sensations Roast Chicken & Thyme but these came out last year and they are amazing
Coop Salted Caramel Profiteroles – milk free too!!!!! These profiteroles are really yummy and perfect in a big stack as the centrepiece of the table.
Coop Truffles and Luxury Choc Selection – how good do these sound?! So nice to be able to pick up pretty truffles like this in the regular aisles.
Marks & Spencer Salted Caramel Pine Cones – They are the most beautiful chocolates I've seen in the shops and my family all say they are amazing. Pricey at £10 a box but each choc is hugeeee so they'll go a long way
Marks and Spencer Salted Caramel Brownie Cream Liqueur – everything about this sounds insane.
Roulades – most of the supermarkets have gluten free roulades this Christmas so make sure you don't miss them!!! Here's a couple of the ones that stood out to me…
Lidl and Asda both have gf Macarons in the fridge/freezer sections. Careful with Aldis – look just like this but have "may contain"
Aldi Cream Liqueur Stirrer – how genius is this!!! Hopefully you can see the little pipette of "baileys" in the top of the stirrer. Need to try it asap.
Marks and Spencer Swiss Truffle Chocolate Assortment – basically like Lindt balls (most of which aren't gluten free). You can get a cheaper version in the Poundshop too but these are 100x better and its Christmas!!!!!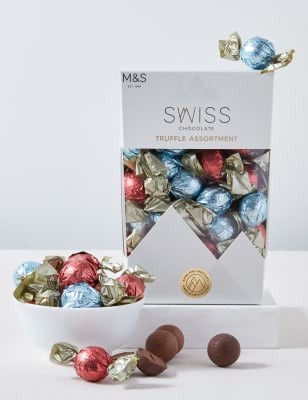 ---
A Free From Desserts that have snuck in!! Ok this is from the Free From Aisle but I couldn't help but include it. My family tried it… it looked, smelt and (apparently) tasted INCREDIBLE – contains dairy so couldn't try them myself, boooo!!